On  every third Saturday of the month the community plans to host a Working Saturday.  Note however that these plans are subject to change so please contact us beforehand if you are thinking of coming in order to confirm.
This is an opportunity to do some healthy outdoor work to keep us all fit and more in touch with the natural world. Or the work may be indoors caring for the buildings which house the community, our visitors, and the retreats programme. Either way, you may find it a treat to work up a sweat and then enjoy a hot shower or bath.
You get to know community members as you work alongside and eat meals together, and you have the satisfaction in supporting us in our work of hospitality and of developing and maintaining a Quaker community.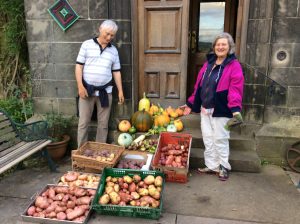 Tasks have included decorating the main downstairs hall,  helping to sow peas and broad beans into pots in the greenhouse, planting out, helping to cook the meals, chopping and stacking wood . .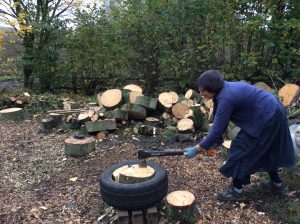 There is also the opportunity to stay overnight and worship with the community on Saturday evening sharing in Epilogue, and with the Hope Valley Quaker meeting on Sunday morning at 10.45am at Bamford Moore Memorial Hall.
If you would like to join in a Working Saturday, then contact us and let us know if you are just coming for the Saturday or are also staying overnight.