Woodland Skills Wednesday 18 November to Sunday 22 November 2020
The Quaker Community has 10 acres or so of mixed hardwoods- oak, ash, birch and willow, which are managed for wildlife, species diversity, and as a renewable resource.
On this retreat we will practise a range of different woodland activities including:
Coppicing, and processing the cut wood, including snedding
Sawing and splitting firewood
Stacking firewood
Making tree stakes, bean poles and structures for netting
Dead hedging and
Layered hedging
Tree planting
Raking leaves
Making a causeway
The work will be tailored to suit all range of skills and abilities.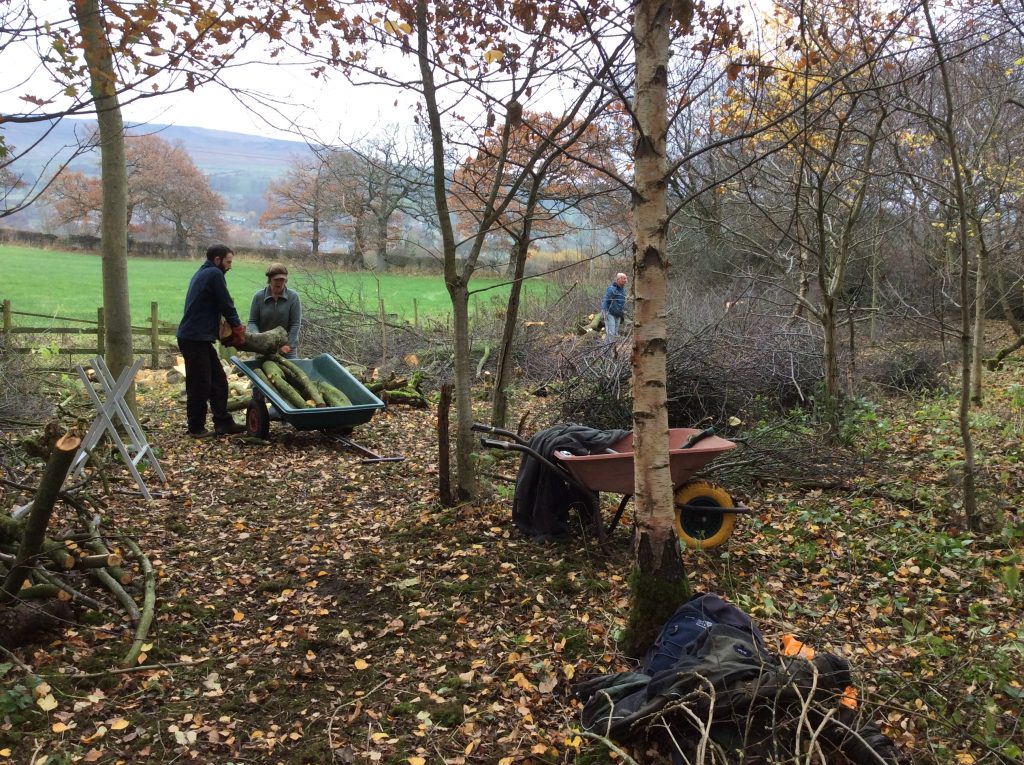 The morning will start with gentle warm up exercise and in the late afternoon, after tea and cake, we will have reflective sessions led by members of the Community. There will be free time and opportunity to join in the Community's twice a day Meeting for Worship.
Zee-Zee says "This is one of my favourite events. Many people have their own gardens, but how many of us have 10 acres of woodland to have fun working in?"
Please note that although all sessions, practical or reflective, are entirely optional, we all take our turn at preparing meals, washing up and other chores.
What to bring: We provide all bedding and towels. Please bring working/weatherproof clothes & boots, and indoor shoes and slippers. We do have a certain amount of wet weather clothing, overalls, welly boots and gardening gloves, but for comfort it is best to bring your own gear including hat which is recommended in the woods.
Charges reflect the fact that this is a working retreat and are on a sliding scale from £110 to £190. "Sliding scale" means you decide what to pay based on what you think is the right and fair amount to pay and what your income is.
The weekend will start with supper at 6 pm on Wednesday 18 November and end after lunch on Sunday22 November. You would be welcome to arrive any time after 4 pm on Wednesday afternoon.
The vegetarian food is always popular, and special diets can be accommodated if notified in advance.
If you have not visited us before you may be pleased to know that the community is based in an old building which is warm and comfortable.
The retreat take place at the Community, Water Lane, Bamford, Hope Valley, S33 0DA, which about 10 minutes' walk from the nearest railway station.
For further details or a booking form contact us, on mail@quakercommunity.org.uk or 01433 650085.