Associate Membership
Our Associate Members support us in many ways, including visiting us regularly to help us in the garden or by helping with the catering at retreats or facilitating sessions.
At difficult times, or even at any time, they will "hold us in the light" as Quakers say, and some try to align their daily prayer time with ours.
A volunteer from among the Associate Members is currently developing this aspect of our work alongside the community.
cliick here for our Associate Members Leaflet and Standing Order Instructions
Working Saturdays
We run these usually on the third Saturday of each month. Visitors and community members join in tackling various tasks in the garden, the woodland or around the buildings. You are welcome to stay overnight and join in Sunday Meeting for Worship with Hope Valley Meeting at Moore Memorial Hall, Brentwood Road, Bamford.  For more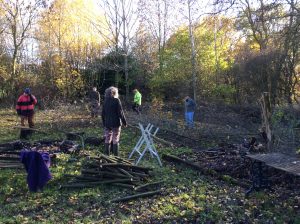 details  see here.
Address: Water Lane, Bamford, Hope Valley, Derbyshire, S33 0DA
Phone: 01433 650 085
Email:  mail@quakercommunity.org.uk