We are in beautiful surroundings with hill and riverside walks, and we manage over 10 acres of reclaimed land including fruit and vegetable growing areas, woodland, a meadow and wetland, realising their full potential for wildlife.
We welcome people coming to stay here on a self-catering basis to recharge their batteries, to enjoy the delights of the Peak District, or to follow a personal retreat here.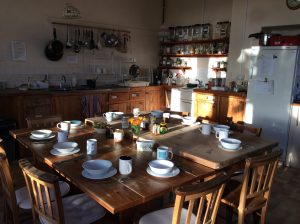 Visitors have access to our grounds, the use of our extensive library, a simple and comfortable centrally-heated room, and access to our public areas including the well-equipped kitchen and Meeting Room. Wi-Fi is available throughout.
When staying here you are invited to our daily Quaker worship. If you are interested in the life and work of the community and want to lend a hand, please tell us preferably before you come, so that we can think out in advance suitable work for you to do.  For more information about Quaker worship and lifestyle see here.
Our normal overnight rate for accommodation is £20-£40 on a sliding scale. "Sliding scale" means you decide what to pay based on what you think is the right and fair amount to pay and what your income is.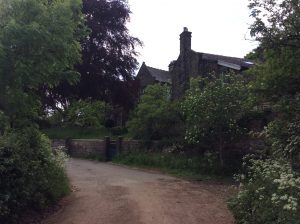 You may buy some ingredients such as pulses, porridge oats, couscous, nuts and seeds, for your meals out of community stocks as available. A wide range of teas and coffee is available for use, as are spices and herbs, just put some money in the money box.
There is a quite good general food store at the garage 15 minutes walk away.  And if you don't want to cook, there is always the community-owned local pub.
Do contact us for more information or look around the website.
NOTES
1    There is good rail access from both Manchester and Sheffield. For information on travel see here – further more detailed information is sent to you on inquiry / booking.
2    Note that we do not as a rule accept short stay visitors during our retreats and events, nor can we take bookings in our "closed weeks" or when a large group is staying. So we would recommend inquiring early!
3     Please note that our shared kitchen is vegetarian. For our reasons for this, and for details on equipment, see here.