The kitchen is often touted as the "most important room in the house" and rightly so. Bamford is no exception – this is where there is usually something going on and people about. So writing a few words about our kitchen seems appropriate.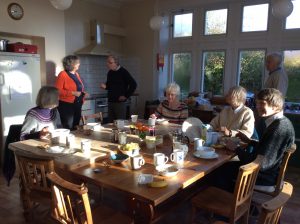 kitchen equipment
Those self-catering here will be pleased to learn that as a result of our catering for largish groups they have access to good quality knives, chopping boards and a large induction cooker which is fast and efficient, saving users time, money and electricity and reducing our carbon footprint from cooking by around 25%. There is also a microwave, toaster, kettle and cupboard and fridge space for visitors.
why our main kitchen is vegetarian
Vegetarianism, veganism and meat-eating are important issues and can stir deep feelings. Our shared kitchen is vegetarian. There are two main reasons for this.
First, in the kitchen meals are prepared by us for the public when people are on retreats, and by self-catering groups and individuals cooking for themselves. If it was to be passed by the authorities for meat, it would basically have to be clad in stainless steel. As it is, the kitchen has been inspected and passed with a top rating as a vegetarian kitchen – and as well many visitors comment on its relaxed and homely feel.
Second, we are happy for guests to experience the delights of good vegetarian food. To live sustainably, and in particular, to meet the challenge of climate change, meat consumption worldwide has to shrink (see here for a popular article with lots of infographics and here for a more rigorous approach focussing on public attitudes.
As a community, we are happy to be ambassadors for this change. That is not to say that all of us here are vegetarian or vegan. Some of us are, while some of us are not, eating meat occasionally cooked in our own rooms.
allergies, food intolerances and diets
Over the years we have learnt to provide for those with allergies, food intolerances and diets, and currently (2021) two members, and one volunteers are vegan. If you have any special requirements, please inform us, then we can talk and come to some arrangement with you.