Exploring Community
We have 3 "Exploring Community" week-ends in 2020 and one in early 2021. The dates are: 17-19 January, 8-19 May, 7-9 June, 16-18 October and January 15-17 2021
These weekends are a valuable opportunity for those considering full membership here as well as for those interested more generally in community.
All these Exploring Community events coincide with our Working Saturdays. This allows for participants getting to know members of the community as you work alongside us.
In addition there are programmed sessions where we explore together as a group the benefits and challenges of living in community,  Community members talk (reasonably frankly) about what brought us to live here at the Quaker community and how the reality compares to what we had expected: what turned out to be "just as we thought" and what turned out to be surprising.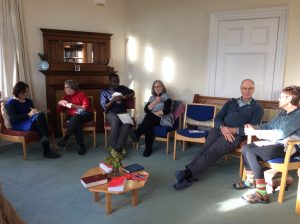 You can share your feelings and test your thoughts and guesses about living in community and ask whatever questions you like,  As with all retreats here, there is no right answer, or even right questions: the aim is to create a non-judgemental space where real listening can take place.
The weekend is fully catered and the reduced cost (£50 – £100) reflects the fact that "Exploring Community" weekends include a working Saturday and we get the benefit of the work you do whilst here, and also that we are keen to share our experiences of living in community.
———————————————-
For further details or for a booking form contact us.
Or you can download a booking form Booking form for Retreats. 2019
All our retreats take place at the Community. There will be free time and opportunity to join in the Community's regular worship.
For more about our vegetarian cooking, (and diets and allergies etc.) about the accommodation and about our beautiful location – follow the links.