Following on from the success of our first Well Dressing in 2019 Cindy shares her thoughts on the planning for this year, followed by some back ground to the Derbyshire Well Dressing tradition and her inspiration for last year's design with some photos.
Do not be concerned if you have no experience of Well Dressing, apart from Cindy and Linda none of the participants last year had any previous experience. We had a wonderful time learning together under Cindy's patient and clear direction. So come along and join us for a magical and inspiring retreat.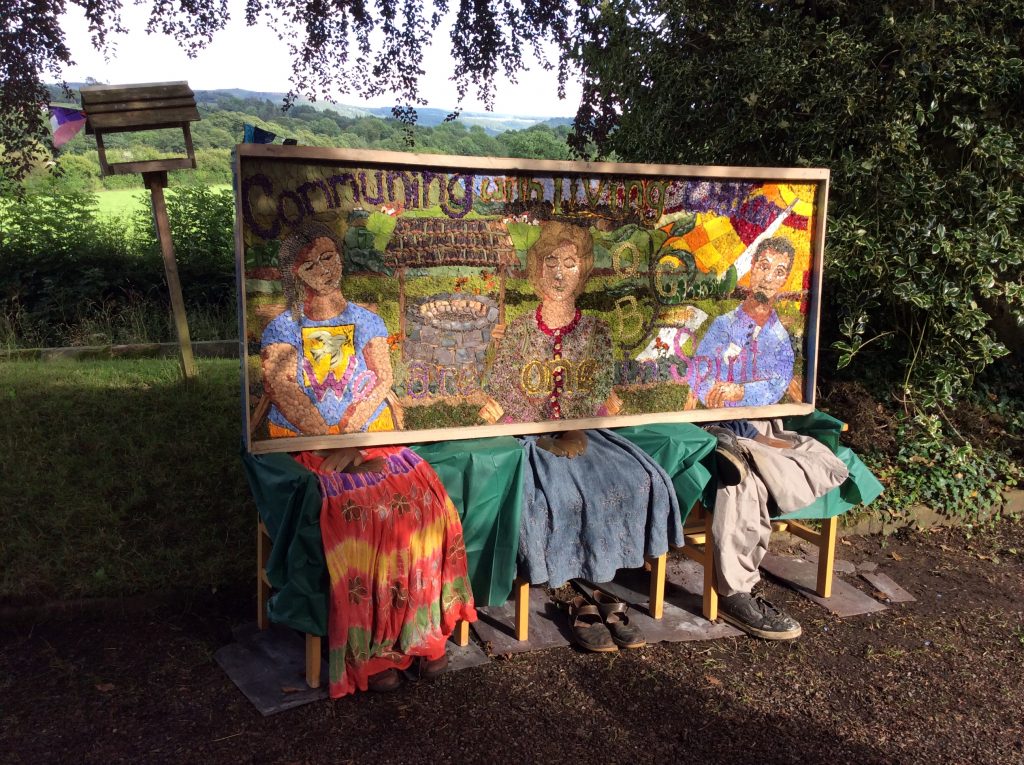 Well Dressing 2020 (clarifying our vision)
"…Unconsciously neglecting day after day to restore our spiritual strength, we find ourselves at the bottom of a dry well…too tired to refresh our spiritual strength by reading
…we must stop, in the midst of our urgent task for something more urgent; prayer, self-composure, meditation in silence, worship."
Henry van Etters 1942
Pressure-we all have this in some ways- often not pressure from others (though it can be) but upon ourselves and we lose the joy in life. In celebrating nature, the beauty of creation and the nourishment of being "One in spirit" we found a joy as an extended community last year in undertaking our first celebratory Well-Dressing in "communion with living water".
This year our theme is Spiritual Nourishment- doing what gives us Joy. We are often distracted from finding our own joys by the outer worlds demand for attention and needs. Mine currently is to express 'The Joy of Well-Dressing', encouraging you to join us in working together to create a celebration of nature and in its focus on what nurtures us.
Last years creation received acclaim from the local well-dressers. And gave encouragement to me in how the attention to detail and methodical working through creative problems together, was rewarded by a splendid piece of artistry the Extended Quaker Community created, working 'as One'.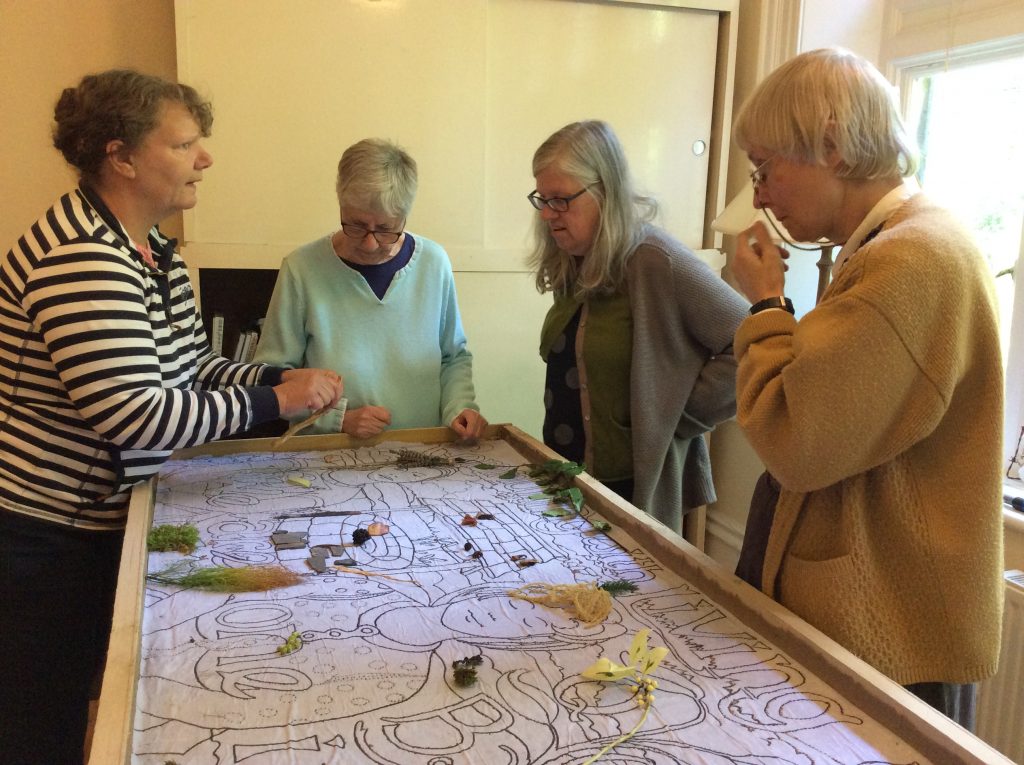 In seeking nourishment for the spirit through reading from our roots as Quakers- the 'auld' Blue Book- Christian faith and practice in the experience of the Society of Friends- passage 436 (quoted from above) speaks to life's external busyness with long working hours…to the detriment of our health both physically and spiritually ( and in today's maddening world we may add mentally too)
In writing this piece of prose for the website, I had got up early to do so, having noted and considered what was needed to go in about our theme this year- only to find what I had just been expressing was a reality in my own life- I looked up from my 'word processing' to find I was fifteen minutes late for our morning Worship at eight! Grabbed my coat and rushed out the door- only to find the birds #chirping their hunger, in the grey cold damp morning! I am Late!- I panted- so what-"feeding the birds…gives you joy" a calm voice said to myself and I stepped back into the porch, getting a scoop of feed and it did bring me joy- the song and dance in my heart from 'Babe' the movie when the pig is sick and will not take nourishment. https://www.youtube.com/watch?v=H11mlCL-dkE
I went to Meeting for the last ten minutes, giving thanks for my own joys and the courage to apply them- so nourished, I contemplated what had occurred and shared my insights in 'after-words'.
The passage in Christian faith and practice- 436, goes on to state…'we have transformed what was a divinely appointed task in to work on a merely human level…'so important is it in being and working here in the Quaker Community to be aware of the Spirit in which we do things. Writing this for the website has given me joy, collecting natures bounty to use in the well-dressing has also given much joy- and know more joys will come at each stage of the process in the creation, in honour of our theme. I have included here the historic origins of well dressing again and it is my hope that you will come and share in the Celebration of Nature and the joys of Community Well-Dressing honouring our local Seep at Thornhill as well.
A celebration of that which nourishes- come and join this practical celebration. We welcome any thought or image contributions as inspiration on the theme- you can make, before deciding the picture to be worked-so get them in to us as soon as possible. Some initial gleanings:-
In a room full of Art, I would still stare at you.
Your Vibe attracts your Tribe.
Water your roots, so your soul can blossom.
When you plant a seed of love it is you that Blossoms
Read the Scripture to renew your mind. Meditate on the Scripture to nourish your soul. Affirm the Scripture to revive your spirit.- Lailah Gifty Akita
Water takes on the form in which it is held and moves in the path of least resistance
Let the beauty we love be what we do
The library is an arena of possibility opening both a window into the soul and a door to the world -Rita Dove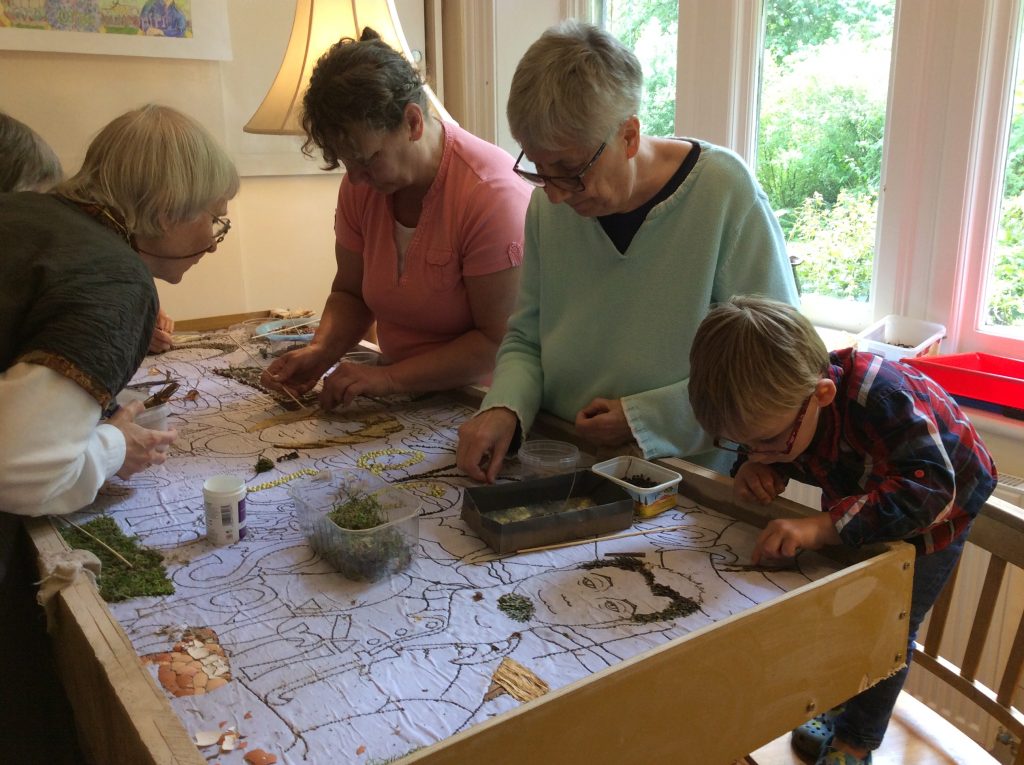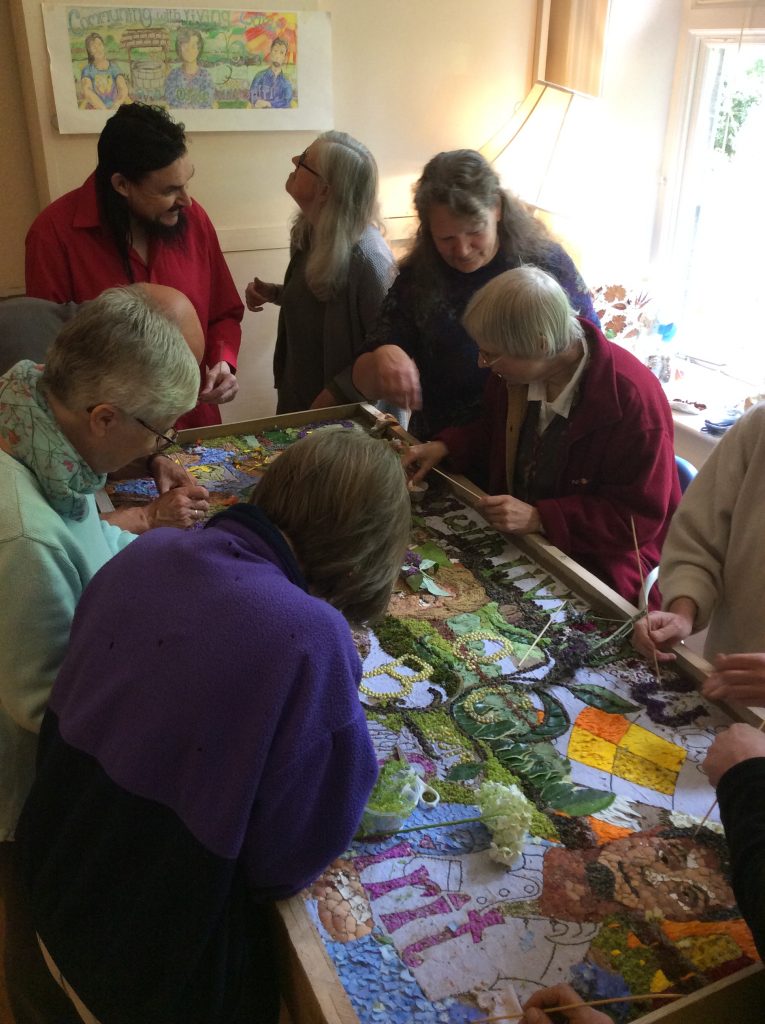 A bit of History
Well dressing is an annual event in all the local villages around the Community and this year, as last, having had local experience of 'doing well dressings', the Quaker Community are embracing this local tradition. http://welldressing.com/photo.php
Originally the local wells where water was drawn, sustaining a village or a hamlet, were simply honoured with flowers and gifts. Nowadays a village can produce several well-dressings, not just one for honouring the water well (that are now mainly disused) as traditional; but also new sources of village nourishment; a church, a school, a collage and even a cemetery in honour of ancestors or more recently those who died fighting. (welldressing.com for picture 2018 at Hope)
Further information has been extracted from the book Sacred Waters by Janet and Colin Bord. Published by Paladin Books 1986 (below) and helps us to understand the significance and honour it is to participate in doing a well-dressing. (info. in brackets are further additions, to local or Quaker context )
"Water is available in our homes and no one need visit places where it wells from the earth. Water, in an ever constant clean supply, is taken for granted and considered everyone's right. Only in drought or disruption to mains supply do people realize how dependent we all are. The link between humans, life, water, and earth was instinctively known by those people who lived before Water Boards came into being.( There is a local well, known as The Seep, up the track to the hamlet of Thornhill near here and is a regular visiting place for us ) small wells an ever important feature of the district, that century after century it has been unforgotten".
"Modern amenities, including piped water in almost every home, have meant that after hundreds even thousands of years attitudes towards water have changed, and wells once considered holy are now left to decay, forgotten and unwanted. The history of any given well may not have been recorded. Inland water sources have been found to show evidence that water in general was (and is to be) considered "sacred" i.e. worthy of, or regarded with, reverence, awe, or respect".
"The waters healing roles has been taken over by the NHS and in our technological society the springs and holy wells are considered to have nothing to offer us. This attitude is mistaken, since every act which distances humanity from its natural heritage is detrimental to physical and spiritual health. Concern and care for the sources of sacred water are among the many actions which show that humanity is slowly awakening to its environmental responsibilities. Perhaps within the human psyche lies an urge to correct any imbalance of attitude which develops and thus begins to assert itself when men's actions reach a level which threatens self destruction". ( Fracking? and its environmental impact see website we can give thanks that this is not now an imminent threat this year https://www.environmentalsciencedegree.com/fracking/)
"There is a universal veneration of water. The custom of throwing gifts or offerings into water- (who has not thrown coins into wishing 'wells'?) – and the term 'holy well' is used to describe all kinds of ancient wells and springs,(overtaken by)Christians throughout Europe who were intolerant of any other form of worship they called pagan ( i.e. irreligious, barbaric and unenlightened) and made strenuous efforts to suppress it. Most water cults are pre-Christian".
"Pope Gregory at the beginning of the 7th Century recommended that temples not be destroyed, but converted for Christian use. People would continue to visit their sacred places, but their devotions would be directed at the true God rather than pagan idols- this is what happened to many of the holy wells and an important reason for their continued survival for so long. Yet not all wells were taken over in this way by the Christians, many continued their old practices resulting in more decrees banning water worship".
"Christian water rites of baptism and hand-washing were methods of take over. Baptisteries built at wells, churches built close or even over wells. Pagan gods ousted in favour of Christian Saints, many being dedicated to Saints and thenceforth bearing their names". ( The Church at Thornhill, built very near the local well, closed; not long after The Seep was no longer in use, with the arrival of piped water in 1947)
"St Chad, is the patron Saint of medicinal springs- he was a 7th Century bishop, born in Northumbria. In 669 Chad was consecrated bishop of the Mercian, with his See ( 'See' is the political body of the Vatican City), at Lichfield (Stafford); the location of the most famous of the holy wells dedicated to him. At Stowe on the outskirts of Litchfield, a small church was built by Chad near a well where he baptized his converts. It was his custom to stand naked in the well and pray, he died in 672. This well became known as a healing well, and large numbers of pilgrims visited during the Middle Ages. In the early 18th Century it was recommended as a cure by Sir John Flayer, physician to Charles II so enjoyed fame as a spa. Up until the last century it was decorated with greenery and flowers on Ascension Day". (Tissington Hall now continues this tradition with well-dressings on Ascension Day with several elaborate well-dressings produced)
"water symbolizes the whole of potentiality, it is 'foris et origo', the source of all possible existence" Mircea Eliade
St John Chrysostom wrote of baptism- "it represents death and burial, life and resurrection as when we plunge our head into water as into a tomb, the old man is immersed, wholly buried; when we come out of the water, the new man appears at that moment."
"Often rituals were customary, for any particular well to affect a cure. It was the time at which it was used or what the water was drank from, as are rituals the church established, they worked hard to prevent people using or participating in water rituals of any kind."
Thank God for the formalised tradition of well-dressing in modern times- allowing the communion with living water as a public statement of time spent in gratitude to Earth and nature. Dr. Emoto's work with water.